Ready to take advantage of the warmth and ambiance of a beautiful fireplace in your home? Your enjoyment starts with the right products and accessories. Alpha & Omega Services brings you top-notch inserts, fireplace screens, liners and stoves in Williamston, Ingham County, Webberville, Lansing, and Williamston-Lansing, MI—as well as other accessories and supplies—to maximize the value and appeal of your fireplace.
Accessories and Supplies
Alongside our selection of fireplaces and stoves in Williamston, Ingham County, Webberville, Lansing, and Williamston-Lansing, MI, we carry an extensive selection of accessories and supplies. We have what it takes to keep your installation safe. From the very top of your chimney to the crackling hearth, you can trust us as your source for quality accessories and supplies.
Chase caps
Chase flashing
Chimney caps
Chimney liners
Fireplace damper
Fireplace doors
Fireplace screens
Fireplaces
Flue liners
Gas inserts
Gas logs
Specialty caps
Woodburning stove inserts
Wood Fireplace Products
Gas Fireplace Products
Our commitment to creating the best products in Williamston, MI is rooted in the superior products we use. Whether you prefer a gas, log or pellet installation, we bring you the best-rated products from recognized name brands. Count on us to help you find the perfect fireplace to fit both your needs and your budget.
Enjoy Your Fireplace
If you're installing or remodeling a fireplace, be sure to contact Alpha & Omega Services for products, accessories and supplies. We'll provide you with top-notch products that ensure safe, reliable function from your fireplace or stove. Our selection covers products for wood, pellet, and gas fireplaces and stoves.
Reach us today at 517-655-8515 to learn more about our options or to get an expert's opinion on the right products for your home's hearth.
---
Stoves, Fireplaces, & More
A beautiful fireplace is a quintessential centerpiece in any den or living room. It's more than just a beautiful feature that defines the room—it's also a source of heat and a symbol of comfort.
If you're looking to reap the benefits of having a fireplace in your home in Plymouth, Wayne County, Livonia, Canton, or Detroit, MI, Alpha & Omega LLC will help you evaluate your options to find the ideal installation for your space.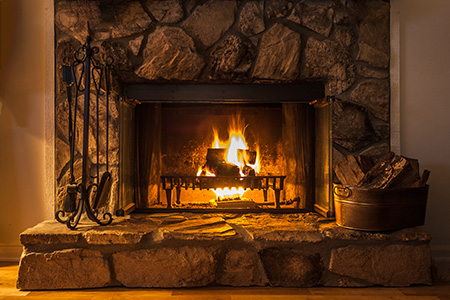 Fireplace & Stove Products
Whether you prefer a gas log fireplace or want the convenience and simplicity of an electric insert, count on us to talk you through the many options available to you. Likewise, if you're interested in stoves in Plymouth, MI, we'll gladly show you many of the best-rated options and provide information about them.
Our selection of stoves and fireplaces in Plymouth, MI includes several of the industry's best name brands, as well as a variety of fuel source options. Some of the great brands we'll be happy to introduce you to include:
Buck Stove
Design Specialties
Enviro
Hearth Craft
Innsbrook
Oakdale
Real Fyre
White Mountain Hearth
Mendota
Napoleon
We're knowledgeable about everything we sell and able to provide recommendations based on your budget or preferences.
---
Accessories
Creating the perfect fireplace aesthetic means customizing your installation around your unique vision. We have everything you need to do just that, while also ensuring completely safe operation. Our full scope of fireplace and stove accessories include:
Chase caps
Chase flashing
Chimney caps
Chimney liners
Wood burning stoves
Fireplace damper
Fireplace doors
Fireplace screens
Gas fireplaces
Furnace liners
Gas inserts
Gas logs
Specialty caps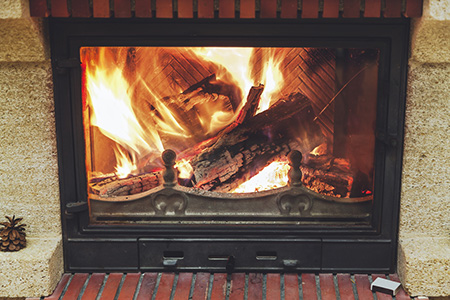 Expert in Fireplace Products & Services
For more information about the complete range of stove and fireplace products we offer or to get to know any of our products specifically, visit Alpha & Omega LLC today.
Our mission is to make sure your home is outfitted with the perfect centerpiece, providing you with warmth and comfort for decades to come. Call us for a new fireplace, chimney repair, and more!