Everybody loves gathering around the fireplace to enjoy the warm flickering of the flames, but there are a lot of responsibilities that come with owning a home with a chimney. When you burn logs in your fireplace, creosote builds up in your chimney as a byproduct of the combustion process, creating a fire hazard. Not only is creosote buildup a big problem, but you also have to worry about structural damage to your chimney. If you want to make sure your chimney is functioning properly and your family and home are safe, Alpha & Omega Chimney Services has you covered.
Chimney Repair and Installation Services in Canton, MI
At Alpha & Omega Chimney Services, we see homeowners who try to clean or fix their own chimneys all the time. As tempting as it might be to handle everything on your own to save money, you don't have the skills and tools to get your chimney clean and make sure it's not damaged. When it comes to chimney inspections, cleaning, repair, and installation, you should always leave the work to a professional. Lucky for you, Alpha & Omega Chimney Services offers all the chimney services you need.
Repair and Restoration
Have you noticed a crack or some other type of damage on the exterior of your chimney? Believe it or not, even a small crack in your chimney can be a huge problem when it comes to fire safety and indoor air quality. Chimneys are designed to carry smoke from your home and out of the flue, but a crack can allow that smoke to escape into your walls and your home. Not only is this an issue in terms of ventilation, but it also creates a huge fire hazard.
If your chimney is damaged in some way, the experts at Alpha & Omega Chimney Services can get it fixed right up for you. We've got experience fixing just about every type of chimney damage you can imagine, from small cracks to chimney liner damage and more. No matter what's wrong with your chimney, we can fix it.
Installations
Maybe you don't have a chimney in your home yet, but you'd really like to have one. The good news is, Alpha & Omega Chimney Services can install a new chimney in your Canton, MI, home, so you can enjoy the warm, fuzzy feeling of sitting around the fire during the fall and winter. If you're not sure whether a fireplace is right for your home or not, our experts can work with you to find the right solution.
Once you know what you want, we'll take care of all the little things that can make installing a chimney difficult. We'll figure out where to install your chimney and how big it needs to be, and we'll take care of all the heavy lifting when it comes to installation. All you have to do is give us a call and tell us you need a chimney installed, and we'll handle the rest.
Level 1 Inspections
If you want to keep your chimney in good shape, you need to have it inspected regularly. At Alpha & Omega Chimney Services, we recommend having a level 1 chimney inspection performed at least once a year. During a level 1 inspection, we'll take a quick look at your chimney for signs of physical damage. If there are any cracks or other obvious signs of chimney damage, we can schedule an appointment to get them fixed for you.
Level 2 Inspections
A level 1 inspection is a pretty basic way to figure out if you've got a problem with your chimney, but it's not the best way of spotting certain problems. The only way to make sure your chimney is completely good to go is to have a chimney sweep professional perform a level 2 inspection. During a level 2 inspection, we use cameras and other tools to get an in-depth look at your chimney and locate any potential problems.
While level 2 inspections are mostly about getting a more thorough look at your chimney, they're also required in some cases. If you recently had a chimney restored or had a new chimney liner installed, you'll need to have someone perform a level 2 inspection to make sure everything was done right.
Critter Control
It might sound strange, but there are a lot of small critters that like to use your chimney as an access point. From bats and birds to raccoons and squirrels, you never know what you're going to find in your chimney (or in your home). The good news is, Alpha & Omega Chimney Services can help you keep animals out of your chimney and home by installing a chimney cover. We'll help you choose the best chimney cover and make sure it's installed right, so nothing can get in, but the smoke can still get out.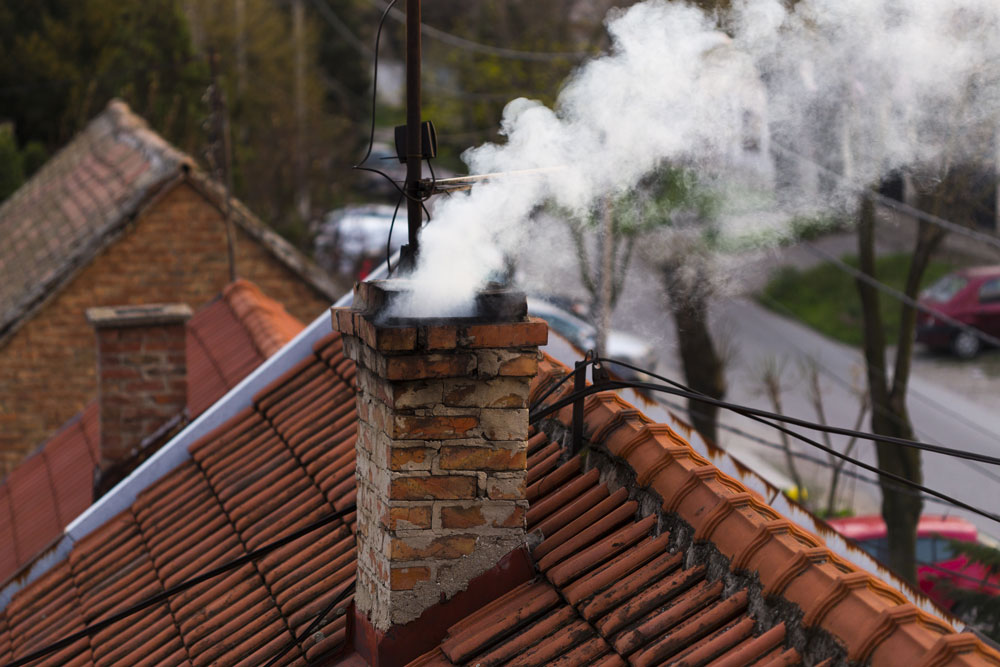 Do you need professional help to inspect or repair an issue with your chimney or fireplace in Canton, MI?
If your Canton, MI, home has a chimney, you need to make sure you're taking good care of it. Taking good care of your chimney isn't just about keeping your home in good shape; it also helps prevent deadly fires. This is why it's so important to schedule regular chimney inspections and cleanings, and Alpha & Omega Chimney Services makes it easy. Whether you need your chimney cleaned and inspected or repaired and relined, just give Alpha & Omega Services a call.