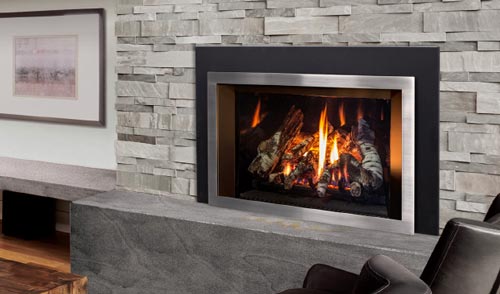 Inserts are prefabricated units that fit into the firebox of your existing fireplace. The result is a remarkable improvement in how efficiently your home is heated.
How do gas fireplaces work?
Heat is produced and conserved in excessive amounts in fireplace inserts due to the closed combustion system. In this highly insulated and compact system, an installed venting system vents and brings in and exhausts air from the existing chimney. All drafting happens inside the appliance when the glass doors are closed. Warm air is blown into the room by a blower.
A gas insert is easy to maintain and very convenient. Fire starts when you flip a switch on the unit or use a remote-control device. The fire is controlled by a dial that controls its level and is put out when you command it to be extinguished.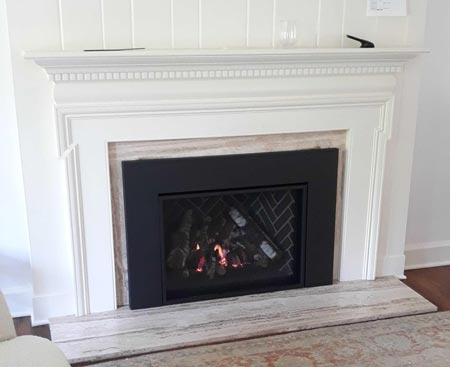 More Heat Output
To calculate how much of the fuel burned by fireplaces and stoves will make actual heat inside your home, they are assigned heat efficiency ratings. The average rating for an open fireplace is 20%, but it can sometimes be much lower. The heat is therefore lost to the chimney to the extent of 80-90%.
Most gas fireplace inserts achieve an efficiency rating more than 80%, so the heat they produce is primarily heat that can be used to warm a house and the people in it. Inserts for fireplaces are designed differently, resulting in such a significant difference in performance.
Gas fireplace inserts, when professionally installed by a chimney specialist, are both safe and powerful, as well as elegant and attractive. Leading manufacturers such as Valor, Enviro, and Regency offer a wide range of styles, finishes, colors, and sizes, so your home can make an unforgettable aesthetic statement.
Contact Alpha & Omega Services today at 517-655-8515 to learn more about our abilities or to schedule service for your chimney.