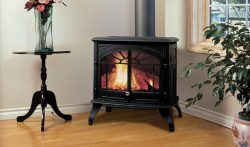 These days, gas stoves are beautiful appliances that add style to any home they are nothing like the old pot-bellied stoves of yesteryear. Installing a gas stove by a certified technician will provide you with many enjoyable advantages. Here are a few of them.
High heat output
Top stove manufacturers like Regency, Enviro, and Valor produce stoves with 80%-plus power efficiency. An appliance's energy efficiency rating indicates how much energy is transferred into the room, as opposed to via the vent pipe. Despite their visual appeal, most traditional masonry fireplaces get ratings in the 20% zone, which is not ideal if you want a comfortable heat source.
Low Maintenance
The vent system of a gas stove does not add large amounts of soot or creosote due to gas's clean-burning nature. Additionally, gas fires don't produce ash in your firebox, so you won't need to clean it every now and then. A gas stove only needs to be inspected by a certified chimney professional once a year for safety.

Simple Venting
There is no need for a chimney or major repair or reconstruction if you have a gas stove installed. Venting stoves safely requires a stove pipe that runs through the ceiling or a wall. Since free-standing gas stoves can vent easily, they can be placed virtually anywhere in the home.
Beautiful Designs
There are a wide variety of options available for gas stoves today, allowing you to select the model that doesn't only meet your heating needs but also suits your aesthetic tastes and current decorating style.r. It is a wonderful addition to your home and life to have a new gas heating stove.
Contact Alpha & Omega Services today at 517-655-8515 to learn more about our abilities or to schedule service for your chimney.